It's official
we've gone mobile
The Board of Trustees unanimously voted on expanding the ministry to the streets of Seminole County with this 26′ Sprinter Van! This mobile clinic is a beautifully equipped allowing our medical team to perform pregnancy testing and sonograms to abortion-vulnerable women in our community. 
The Pregnancy Center already serves a wide area of Seminole County. The mobile unit is allowing us to reach clients that are unaware that we exist and of the resources we have to offer. Our
mobile unit can be parked at churches, near colleges, and
even abortion clinics. Other pregnancy centers that have
"gone mobile" have reported a 400% increase of women seen; resulting in more lives saved. We're praying more women
will be empowered to choose life through our mobile ministry.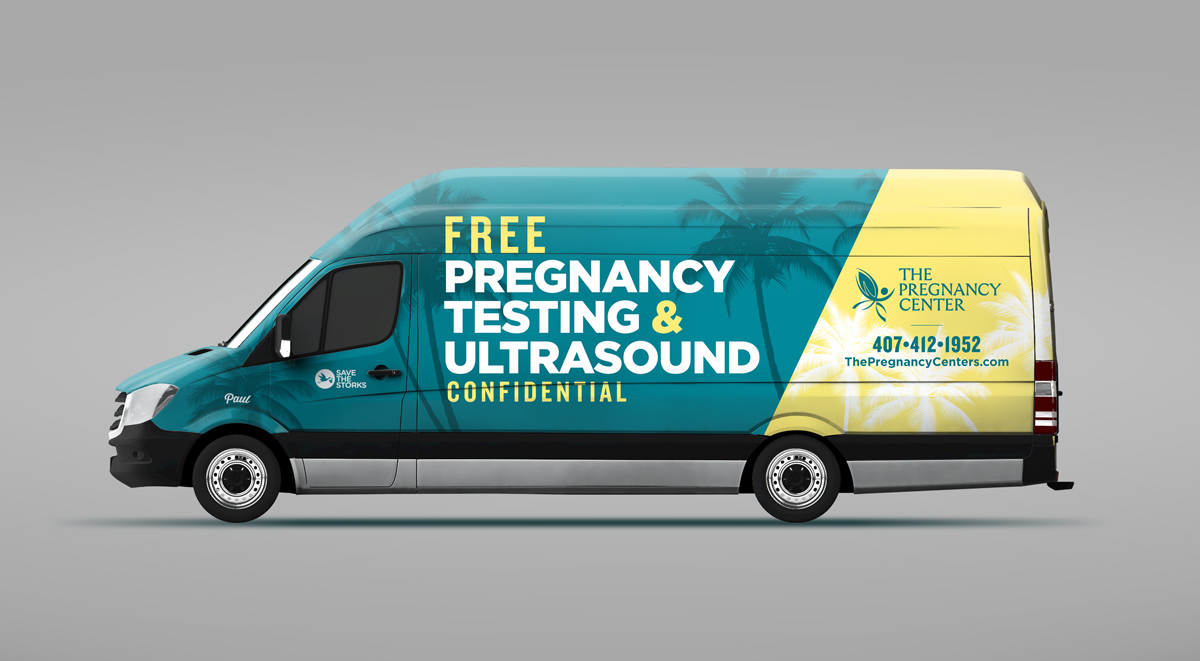 Our mobile ultrasound van is small enough to fit anywhere we go, and yet it is big enough to comfortably provide medical testing and counseling for women who are pregnant or think they might be. It is professional, which communicates that we are trustworthy and legitimate, and at the same time it is cozy and comfortable for each woman who enters. Our mobile unit allows our pregnancy center to save lives not only in Sanford and Winter Park, but also in other underserved areas of Seminole County and the campuses of UCF and Seminole State. This mobile presence allows us to meet women where they are and to help them in their most vulnerable moments by providing free pregnancy testing and ultrasounds in the Stork Bus.
We chose to partner with Save the Storks because they offer the most professional package available; with a beautiful, custom-built, highly efficient, low maintenance, state-of-the-art mobile unit. Save the Storks has an exclusive partnership with Mercedes-Benz to build mobile pregnancy centers out of their Sprinter vans. Mercedes-Benz provides a high-quality warranty, and the Sprinter is equipped with a patented Blue Tech Power Train engine which is the most environmentally friendly and the lowest cost-per-mile vehicle of its class.
Our mobile unit is equipped with some incredible features to provide for the comfort and needs of our clients.
Excellent Low-Maintenance Track Record 
Tinted Windows & Privacy Shades
Refrigerator for Hospitality 
Comfortable Leather Seating
25-Foot In Length (Fits In One Parking Spot)
Great Fuel Economy (24 MPG)
Modern Design To Reach Millennial Women
Storage Drawers & Cabinets 
We have purchased our Mobile Medical Unit and have hired the staff!  We are on the road 4 days a week serving the women of Seminole County! Would you consider standing with us as a financial partner to help keep this mobile unit on the road?
4 Out of 5 Women Who Board a Stork Bus Choose Life for Their Baby
GIVE
The Pregnancy Center is a registered 501c3 non- profit ministry.  Would you, your family, or organization prayerfully consider standing with us financially?  Every penny makes all the difference in the life of
a woman facing an unplanned pregnancy.
EVENTS
Join in our Annual Baby Bottle Campaign, attend one of our fundraising banquets or Walk 4 Life event to learn more about the ministry and celebrate life with other supporters.
VOLUNTEER
Serve on the front lines of bringing hope! Volunteer a few hours each week to serve women facing an unplanned pregnancy in our community. We'll provide all the training you need to start saving lives.